If you are a man who suffers from man boobs then you may already know that this is most probably due to gynecomastia, a condition where an excess of breast tissue is developed. Gynecomastia is known by several common terms including, man boobs, moobs, man breasts and bitch tits.
More often than not gynecomastia is caused by an excess of the female hormone estrogen in a man's body, in relation to the male hormone testosterone. Estrogen controls female physical traits such as breast growth. Man boobs often appear as a boy moves into puberty when their hormone levels are all over the place.
If you have man boobs you'll often avoid situations where the only option might be to just wear a t-shirt, such as doing exercise on a hot day or hanging out at the park with your buddies. A thin t-shirt will make your man boobs stand out and it will be obvious to everyone that you have a problem with your chest area, and this is where the embarrassment starts. It's obvious that you might want to do something to hide your man boobs in day-to-day situations.
*** Don't wear a bra, we recommend GyneSlim™ shirts to hide man boobs, click to read more ***
Sufferers of gynecomastia often ask us "should I wear a bra to hide my man boobs?" A lot of men will take the view that they should do something to hide their man boobs. This is often the situation men find themselves in if they start to treat their man boobs, either through gynecomastia pills or with a man boob exercise program. During the initial part of these treatment programs their man boobs will still show so wearing a garment like a bra sounds like a good idea.
Man Boob Bra?
The problem with a traditional women's bra is that they are primarily designed to do two things. Support the breasts for comfort and to enhance the shape of the breast for a pleasing visual effect. This is quite the opposite of what men would like to hide their man boobs. A bra may make your man boobs more comfortable but it won't do anything to hide them or disguise their shape.
A sports bra is an alternative type of women's bra which may flatten your man boobs and hide their shape, and many men have reported acceptable results when one is worn under their clothing. Some men even wear two sports bras in an effort to further reduce their man boobs, but this is very cumbersome and uncomfortable.
But you have to ask yourself how will your friends react if they knew you wear a bra to hide man boobs? And what happens if you have to remove your clothing in front of a woman, perhaps a new sexual partner? The embarrassment you will feel from them seeing the bra is probably even greater than if they saw your man boobs anyway.
The Compression Shirt, The Best Alternative?
Compression shirts:
are designed to give a toned appearance your torso
are comfortable to wear
look like a normal sports undershirt
are better than a bra to hide man boobs
One product that effectively hides man boobs are compression shirts. These undershirts are often made from neoprene or Lycra™ and are specially designed to sculpt a man's chest and belly area to give a more toned appearance. They were originally aimed at men who wanted to look a few pounds lighter by hiding "love handles" and belly fat.
We had many readers report to us that these compression shirts are a lot better than a bra to hide man boobs, in fact they were the best way to hide man boobs. The compression shirts are discreetly worn underneath your clothing so no-one will ever know you're wearing one. And the great thing is, that the compression shirt looks like a normal sports shirt so no-one will figure out why you're wearing it.
More about Hiding Man Boobs:
How To Hide My Man Boobs – 5 Fantastic Tips
What are the best shirts to hide man boobs?
How can I get over my Man Boobs
Man Boob Compression T-Shirts Compared
A Secret Burning Chest Fat Exercise
So, What's the Best Gynecomastia Shirt to Hide Man Boobs?
We have looked at the best compression shirts to reduce the appearance of your man boobs that are available on the internet and our #1 choice has been chosen to give you the best results. Feedback from men who've used these compression shirts have told us that they are the better alternative than a women's bra.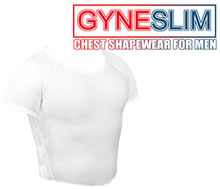 Specially designed for gynecomastia sufferers
Hides man boobs effectively
Also slims belly and love handles
Worn under any clothing
Cool to wear all day
GyneSlim™ shirts are the best compression shirts that we've ever reviewed to hide man boobs. These shirts are designed for gynecomastia in mind, unlike regular compression shirts. Wear GyneSlim™ shirts under your normal clothing and get immediate results from the best gynecomastia shirts around.
Our reviewer found that you can't get the best results from regular compression shirts compared to a shirt specially designed for gynecomatia, such as GyneSlim™. We found in our GyneSlim™ review that you'll also look slimmer with a reduced belly and love handles. Why settle for a compression shirt that just tackles your belly and love handles when you can get the best results with GyneSlim™ shirts.